Description:
This addon allows to change the look of the nodes list in the index page.
You'll be able to show nodes side by side.
Once installed, you will have a new setting in the node edit page.
This option will let you choose if to show the node as a column or not. This allows you to show only specific nodes side by side, unlike other solutions that puts all the nodes side by side.
Even nested columns are possible, so for example, you can have two categories side by side - and their inner forums side by side as well.
Check out the screenshot included to see how it looks.
NEW IN 2.0.0
Customize the grid directly from the front-end.
This new feature allows you to change the grid and get feedback immediately.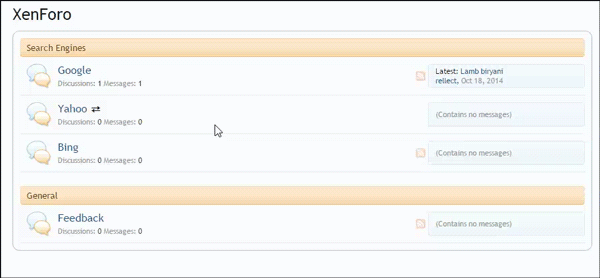 Notes:
The grid is designed to two columns only. More columns will require very wide screen resolution, and considering the need to support the responsive design and narrow screens, I decided it won't be smart to show more than two columns.


The setting of the grid is available only in the default node types.
It is possible to use it also in custom node types, but some code will need to be added to the addon which the node type is belongs to.
If you're a developer, and want to support the Nodes Grid in your addon, please contact me to get the relevant steps for doing that.
Features:
Enable or disable nodes grid per style.
Set any node type side by side (forum, category, etc..).

Flexibility. Choose only the nodes you want to show side by side, while others will be shown in full width.

You can have inner nodes side by side as well.

The grid is fully responsive.
Option to hide the last post info, so there will be more space to the node's information.
A bonus feature - you can add a status icon for sub forums.