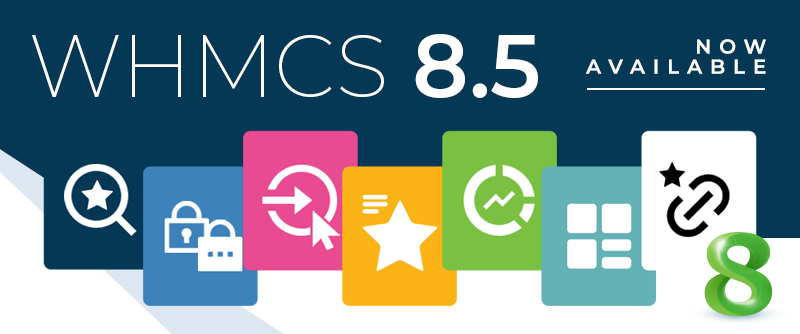 ​
We are pleased to announce the release of WHMCS 8.5 to General Availability.
This marks the end of pre-production testing, and WHMCS 8.5 is now the recommended version for all new installations and updates.
WHMCS 8.5 features faster access to cPanel and Plesk hosting services, support for 2 and 3 Year SSL Certificate sales, new Cross-selling functionality for the shopping cart and more.
What's new in WHMCS 8.5
Client Area Home Page SSO - Clients can now use single sign-on to access their active services such as cPanel and Plesk hosting accounts directly from the Client Area Home Page.
Multi-Year SSL Orders with DigiCert - Offer two-year and three-year SSL certificates from RapidSSL, GeoTrust and DigiCert via MarketConnect with fully automatic reissuance and reinstallation throughout the order period.
Shopping Cart Cross-selling - Setup additional product recommendations to be displayed when customers add a product to their cart or checkout.
Metric Billing for Plesk - Bill for resource usage including things such as email addresses, disk space and bandwidth.
cPanel SEO via MarketConnect - An SEO product offering that helps your customers websites rank more highly in search engines such as Google, creating more successful websites to maximise customer retention.
Improved System Settings - Now with categories, sorting preferences and improved responsive behaviour.
For more information about all of the new features in WHMCS 8.5, visit the
What's New in WHMCS 8.5 Microsite
.
Getting the Update
Automatic Update
You can update to the latest version of WHMCS using the Automatic Updater. Simply navigate to
Utilities > Update WHMCS
to begin the update process.
As always, a download is also being made available for those who wish to install or upgrade manually. You can download WHMCS 8.5
from our downloads page
.
Thank you for continuing to support and use WHMCS and we hope you enjoy the latest version!