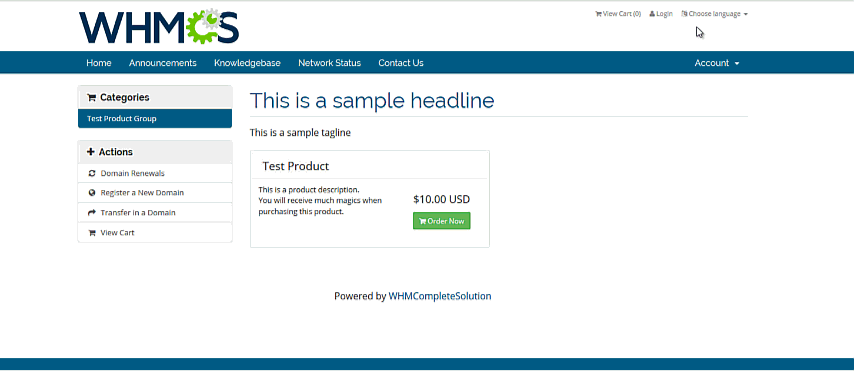 This version of
WHMCS 6.3.0 RC1 BETA NULLED
has been nulled by
NulledTeam (Downloaded from WHMCS and Nulled the license information). We do not include anything to harm your site.
This is a Beta Release and should not be used for live sites only testing purposes.
Items all unlocked to use include:
Branding Removal
Project Management Addon
Licensing Addon
Mobile Edition
iPhone App
Android App
Configurable Package Addon
Live Chat Monthly No Branding
License expires on 03-08-2050
How to install it ?
- Very simple, in License Key field, you only need put(
ScriptzNull.NL
). After that you can install normally as other scripts.
WHMCS is the World's Leading Web Hosting Billing & Automation Platform. A complete solution for web hosts, WHMCS provides everything you need to sell web hosting and related services with high levels of automation.
Changelog
Version 6.3.0 RC1
Implemented
FEATURE-1053 - Client Email Verification
FEATURE-1069 - Drag & Drop Sorting for Products & Product Groups
FEATURE-1089 - Localisation Support for Product Names & Descriptions
FEATURE-1090 - Localisation Support for Product Group Names, Headlines and Taglines
FEATURE-1091 - Localisation Support for Custom Field Names & Descriptions
FEATURE-1103 - Markdown Formatting Support for Support Tickets & Replies
FEATURE-1104 - Markdown Formatting Support for Client Notes
FEATURE-1247 - Compatibility Updates for PHP 7
FEATURE-1293 - Improved Notification Emails of Ticket Related Changes
FEATURE-1294 - Ability to set ticket parameters when posting a new note
FEATURE-1301 - Updated cPanel Icons in Client Area Hosting Account Management UI
FEATURE-1331 - Ability to set ticket parameters when posting a reply
FEATURE-1335 - Inline Ticket Notes in Admin Area Ticket View
FEATURE-1341 - Permanent redirects for merged tickets via search
FEATURE-1344 - Support Ticket Watch Ability
FEATURE-1390 - More powerful support ticket search/filter ability
FEATURE-1418 - Inline viewing of image attachments within Support Tickets
FEATURE-1419 - Ability to attach files to Support Ticket Notes
Maintenance
ADDON-5971 - Project Management Addon: Make My Projects client area navbar link translatable
ADDON-5977 - Task List Templates are now saveable in Project Magement Addon
ADDON-5978 - GetProjects API command now returns multiple project details
ADDON-5980 - Improvement to Create New Project button placement in Project Management Addon
Also known as: MODULE-6352
CORE-6368 (#3171) - Reduce load time for ticket sidebars with improved index
CORE-6461 (#3305) - Update getRecurringBillingValues calculations for non-compound tax
CORE-7208 (#447
- Ensure Update Credit properly reflects client's available credit summary
CORE-8172 - Update numerous fields to prevent password managers from auto-populating
CORE-8591 - Updates to NetEarthOne ID Protect toggle
CORE-8847 - Improve layout of knowledgebase categories when descriptions have varying lengths
CORE-8938 - Update to quote pricing details with products configured with monthly pricing
CORE-8955 - Use WHMCS Connect without Configure Servers permission
CORE-9219 - Ensure disabling domain addons page displays domain related sidebar
CORE-9223 - Update Income By Product report to calculate total product price
CORE-9224 - Reduce database queries when adding domain to cart
CORE-9310 - Prevent "Unable to load your shopping cart" error upon failed login attempt on cart summary page
CORE-9337 - Login as Client respects admin language setting
CORE-9365 - Improved efficiency of configurable options slider in Standard_Cart
CORE-9426 - Client area affiliates referrals now sort correctly by signup date
CORE-9441 - Disable auto capitalization on domain input fields for mobile devices
CORE-9463 - Make Remember Me checkbox clickable in login popup on cart.php
CORE-9464 - Update to quote email message to reflect email status
CORE-9467 - Prevent nameserver 1 field being saved incorrectly on server modification
CORE-9476 - Correctly display all characters in product name on universal slider template
CORE-9488 - Update domain checker template to remove improper closing HTML tag
CORE-9491 - Create Health & Updates Check to show mis-matched table collation types
CORE-9496 - Honour optional client profile fields on register.php in Six template
CORE-9499 - Allow admin area login redirects to be preserved post session expiry
CORE-9509 - Provide consistency in installation DB collations being used (utf8_unicode_ci)
CORE-9520 - Remove hardcoded price value in cloud slider template
CORE-9524 - Automatically update domain registration field with text entered in product domain field in admin order form
CORE-9525 - Ensure Upgrade Email is sent on free upgrades
CORE-9526 - Improved efficiency of Facebook Javascript code in Announcements template
CORE-9528 - Improvements to formatting of promotion code field on product upgrade page
CORE-9564 - Improved error feedback on Application Links enable failure due to user permissions
CORE-9566 - Update ticket feedback template file to include translateable language strings
CORE-9567 - Ensure View Cart link in Six template shows correct item count
CORE-9580 - Update invoice-related emails to use invoice status translation string
CORE-9581 - Prevent the creation of duplicate email template names
CORE-9585 - Correctly align configurable option slider when minimum quantity is 0
CORE-9594 - Update styling of hidden Radio type configurable option on the admin product details tab
CORE-9596 - Ensure Forget Password Link on Oauth Login Works
CORE-9597 - Modification to positioning of dropdown menu on Universal Slider template
CORE-9608 - Ensure contact sales team link is using translateable language string
CORE-9609 - Update .top whois server
CORE-9610 - Whois server updates
CORE-9613 - Liechtenstein (.li) whois server updates
CORE-9615 - Improved OpenID Connect stability with multiple configured URL's
CORE-9618 - Client provided Romanian translations
CORE-9629 - Macedonia (.mk) whois server updates
CORE-9630 - Ukrainian translation additions/improvements
CORE-9642 - Ensure CC option in email templates work properly
CORE-9646 - Attaching a file outside of upload_max_filesize limit now displays error message
CORE-9649 - Invoices are now removed from Billable Items tab when deleted
CORE-9651 - Increase cryptographic strength of client password hashes
CORE-9652 - Ensure invoice generation respects client selected language
CORE-9658 - Update .club whois server
CORE-9663 - Update label of selectize box in view ticket options tab
CORE-9665 - Switching currency on cart.php no longer redirects to a different product
CORE-9668 - Improve handling of MySQL old_password error in upgrade script
CORE-9676 - Improve handling of leap years in Expiry Date when renewing domains
CORE-9677 - Improvement to Add Client API in handling Admin Only custom fields
CORE-9685 - Improved SSL support for Bulk Checker Whois functionality
CORE-9690 - SMTPAutoTLS activation is now set to off by default for mail sent via SMTP
CORE-9691 - Update Application Links "Configure" functionality to improve language support
CORE-9693 - Honour Copy To Field on admin support ticket email templates
CORE-9771 - Domain transfer logic now honors lack of pricing for transfers
Also known as: CORE-8714
Modules
MODULE-6285 - Update URL used for Auth.net
MODULE-6360 - [BluePay] Update to refund transaction calculation for partial refunds
MODULE-6364 - [Sagepay] Enforced IPv4 validation for IP addresses
MODULE-6367 - [Chronopay] Allow separate success and failure return URLs
MODULE-6377 - Update ResellerClub DNS Management to return up to 200 DNS records
Also known as: CORE-9595
CORE-9270 - Update to clientareadomaindetails.tpl to respect Use Default Nameservers variable with eNom
Also known as: CORE-8894
CORE-9623 - Hidden configurable options are now included in the Create Server function
API
CORE-9540 - Update getclientsaddons API to return names for predefined addons
CORE-9577 - Update getclientsdomains API to return "promoid"
CORE-9602 - Added Content-Type headers to API output
CORE-9671 - AddClient: Improve handling of custom field values
Languages
CORE-9634 - Upgraded Portuguese-PT Translation
CORE-9654 - Hebrew translation additions and improvements to client area
CORE-9655 - Hebrew translation additions and improvements to admin area
CORE-9660 - Macedonian translation improvements
CORE-9675 - Hungarian translation additions and improvements to client area
CORE-9680 - French translation additions and improvements
Also known as: CORE-9683
CORE-9688 - French translation displays proper GBP language code