This is included in Both
i) Free (Branded) Tac Anti Spam Collection
ii) Paid (unbranded) Tac Anti Spam Collection
Can be used in combination with :
If you're in the same position as me, and you've noticed that quite a lot of "spammers" are coming from particular countries (from checking the user info, clicking the IP address returns the geo-location via whatismyipaddress.com), and your forum isn't even relevant to those countries, then this plug-in can help
Do not use this if you do not want to block any countries from registering on your forum (a lot of forums are very relevant to all countries)
On registration, this plug-in requests a JSON response for the country of the users IP address.
If you have selected to black list that country, or if you have selected white listing and not selected that country as part of the white list, they will be taken to the "new_registrations_currently_not_being_accepted" page (or a custom page)
This prevents users from that country from registering and should reduce the amount of user spam.
This is not a full proof mechanism, since the user could be using a proxy. However, from my experience, the human users that I've seen currently spamming do not often use a proxy.
This plugin now uses multiple methods of detecting proxies
Uses StopProxies API, to detect known Anonymous proxies
Checking the header to detect Transparent proxies
DNS look up
(Will also add scanning back as an option in the future)
This plug-in will reduced the amount of user spam (non-bot / link building / paid posters) from "suspect" countries, you might even find that it stops some bots.
Disclaimer: This plugin allows a mechanism to use a third party geolocation database via a JSON request to prevent registration. The location of the JSON request is definable by you via the Admin Control Panel, free examples of such sites are mentioned in the discussion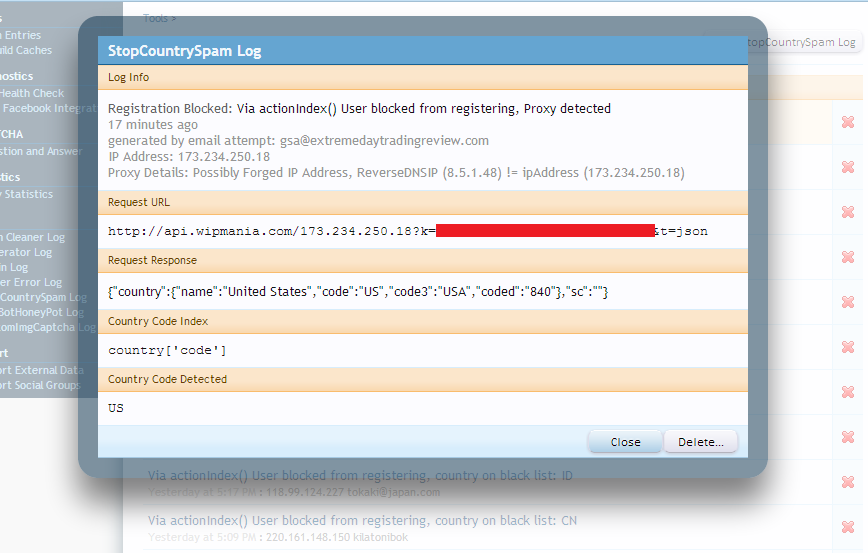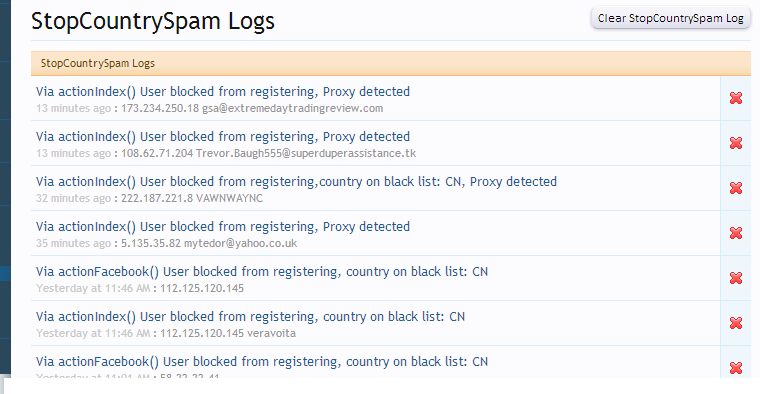 Installation:
When you account upgrade at SurreyForum the plugin is immediately available to download (as an attachment in the first post), this is automated.
You should now have the following folder structure:
http:// www. yourforum.com/library/Tac/StopCountrySpam
Go to ACP -> Add-ons -> Install Add-on -> Install from file on server
Install from file on server: " library/Tac/StopCountrySpam/addon-StopCountrySpam.xml"
Set options in the administration control panel ACP>>Home>>Options>>StopCountrySpam