ABOUT
Tired of the 140 character limit on profile posts? This addon makes that limit configurable. It also allows you to change the limit on profile post comments from the default of 420 characters. There are no database changes, no visible branding, and no callbacks installed with this addon.
I don't know if this add-on is compatible with any other addons that modify or extend profile posts or comments, but I haven't had any problems using it on my sites.
The example screen shots below show the add-on set to only have a maximum of 53 characters allowed in profile posts, and comments can only have 121 characters max. This is just an example. You set your own limits, of course.
The database stores messages as a MEDIUMTEXT column, so the MAXIMUM allowed characters that you can set is about 5.5 million, if my math is right. Don't try to use that limit though
I've tested this on version 1.4.2, 1.4.3, and 1.4.4 of XenForo, and unless there are javascript and/or ajax call changes to the profile post functions, I think it should work with a wide range of versions.
Your purchase comes with a 14 day guarantee with this add-on. If it doesn't work for you, or you're not satisfied with it, start a conversation with me, and I'll refund your money, with the expectation that you remove the addon from your site.
DOWNLOADING
Read this thread on how to download your license after purchase:
Faq : Downloading Products
INSTALLATION
:
- Upload contents of Upload folder to root directory, overwriting any existing files.
- Install addon-sm_ProfilePostChars.xml file.
- To set options go to: Admin > Options > Profile Post Chars
CREDITS:
Thanks to
Mr. Goodie2Shoes
for educating me on some Javascript questions.
The Option Page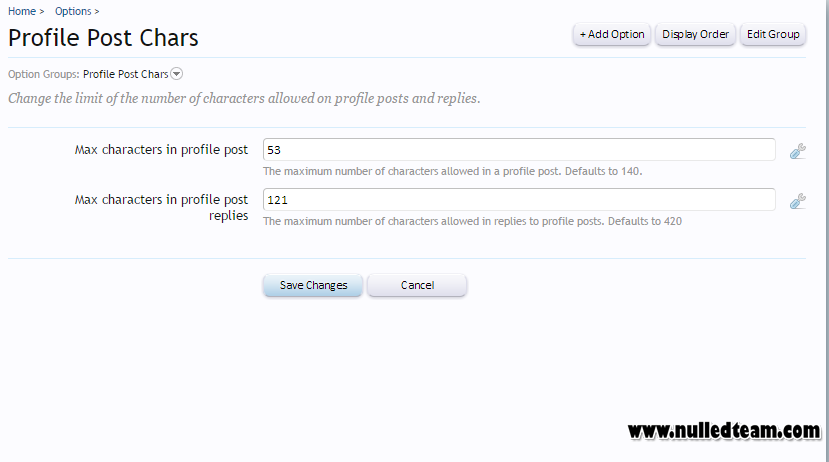 Profile Page, showing the character limit set to "53"

Profile page, showing that the user is near the limit of characters, This warning threshold is set to 10% of the character limit

A profile post comment, which has more than 121 characters.