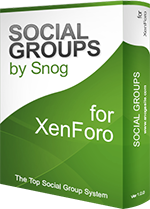 This social group system for XenForo is unlike any other created to date.
This is a complete, fully configurable social group system that allows for group discussions, forums and a basic group photo album.
The ability to create each section of the group is fully usergroup permissions based. So if you don't want a user group to create a photo album, you just turn off that ability.
FEATURES :
Create Group Forum
Create Group Discussions*
Create Group Photo Album (with photo comments)
Optionally show group information in group forum.
Optionally show group information in group forum threads.
Add/Remove Group Moderators
Transfer Group Ownership
Change/Add Group Node Category Icons
Change/Add Group Forum Icons
And more!
*Group discussions are totally separate from XenForo's node system and they are not interchangable. Think of group discussions as giant conversations (private or otherwise).
For those that want to import their social groups from vBulletin 4.x, an importer is available on my site.
WARNING: This add-on requires that the standard user group permission system is being used. In other words, all users must be registered users (even admins) and any other user groups are additional user groups for users.