Compatible XF Versions

1.3
1.4
1.5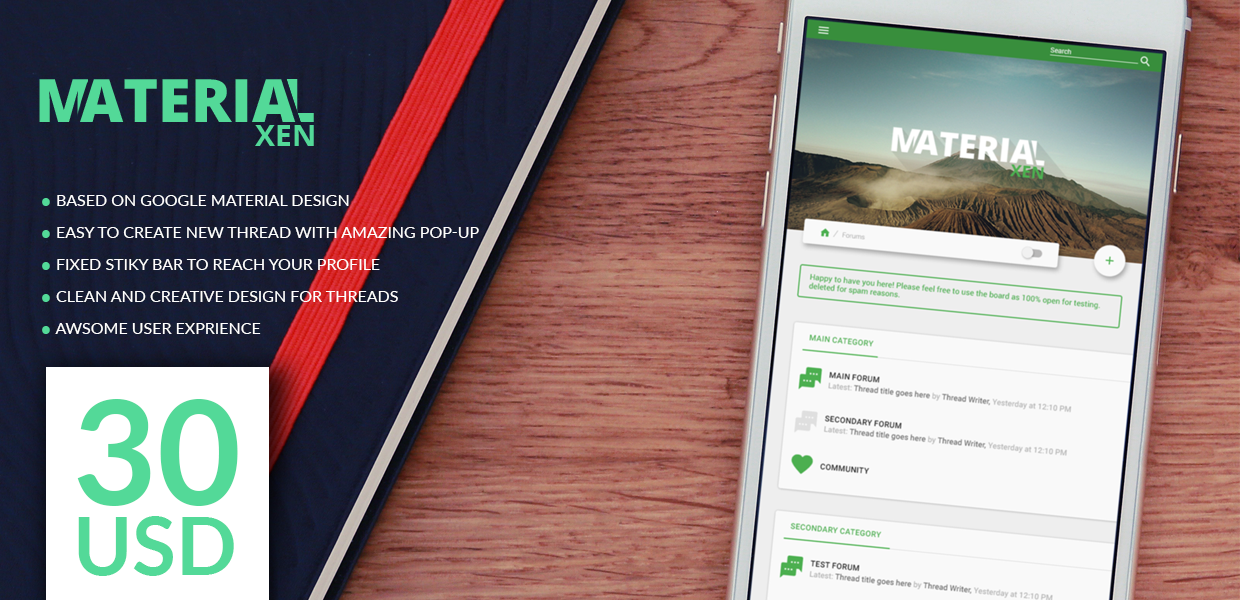 Its been said that people don't like forums as they once did ... Right? we accept the challenge to make forums a joy to use again!
We believe in thinking differently, we believe that design is our art not our product and through our art we are improving user experience and usability,

We decided to design our first theme, "Material Xen", based on Google's material design concepts to show their real nature and as a glipse into what the future of forums and community will be! Using the most powerful design concepts and design philosophy, this new perspective will make forums easier
"Material Xen" is designed to challenge the concept of communities and makes your forum easier to use and adds amazing features.
Let's Start With Theme features (y)
​

That's Not ALL !
​
The first version of our framework is ready and integrates "Material Design" with XenForo's theme!
​
#

Show/Hide Breadcrumbs


#

Show/Hide Offline status indicator


#

Change Login Bar to an Overlay


#

Hide Extra User Info with Effect


#

Hide Forum Title in Index Page


#

Rounded Avatars


#

Logo As Text


#

Collapsible Categories


#

Font Awesome Node Icons


#

2 Layout for Nodes
#
Separate Sticky Threads
#

3 Collapse SideBar


#

Move Sidebar To Left


#

Custom Header Hero Image
#

Compatible with latest XenForo version 1.4.8
Looking For Discover "Material Xen" ..... ?
​
Feel free to take quick tour
Login Info
User:
demo
Pass:
demo
FAQ
How do I place an order?
It's so simple,
1- Click here to visit this link
2- Click on purchase button
3- Order Material Xen
4- Choose Material Xen product then click on order now and check out
5- Enter Your Domain Name in "Additional Information"
6- Sign up & purchase your order
7- We will accept your order and send you download link