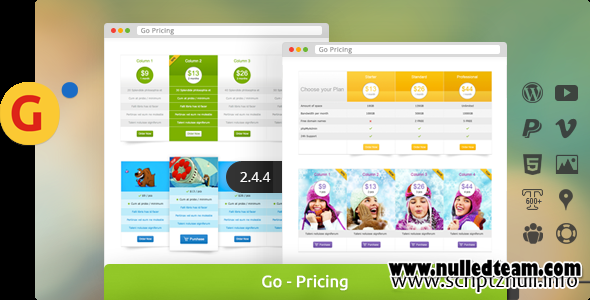 ​
Features
90+ demo table template are included.
Unique CSS class name to prevent class conflicts.
Video (Youtube, Vimeo, Screenr and HTML5 video) support.
HTML5 audio support.
Responsive Image support.
Paypal button support.
s2Member plugin generated paypal shortcode support.
Google map – 8 pins are included and uploading custom pins are supported.
Huge Your post count must be 15 in order to see this link. You currently have 0 post(s) with tons of options.
Visual shortcode editor.
Optional and customizable responsivity(!) to fit to your theme.
Any number of columns up to 5.
Unlimited number of colum descriptions.
Unlimited color combination of columns.
Unlimited color of tooltip text and background color.
Sortable columns and table descriptions via 'Drag and Drop'.
5 shadow types.
32 ribbons are included and uploading custom ribbons are supported.
36 custom icons (4 color set) for column descriptions – uploading custom icons are supported.
3 size of buttons 3 icons for buttons – uploading custom icons are supported.
System and Google Web Font (600+ fonts) support.
Translation ready with .mo .po files.
Data import & export.
Compatible with the latest WordPress version (currently 3.51).
Layered PSDs for ribbons.
Only the point.