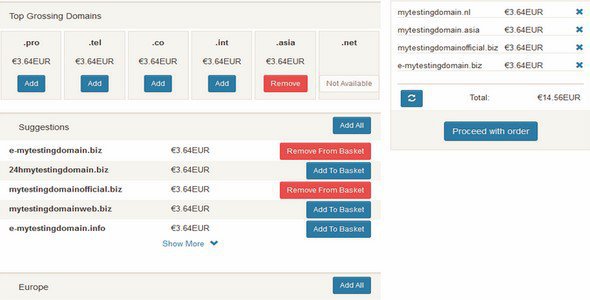 Domain Orders Extended For WHMCS will allow your clients to perform multiple lookup and checkout for domain names in a single request. And all this in the entirely new domain order form in the WHMCS client area that supports gTLDs and ccTLDs! What is more, on the basis of searched domain names, inbuilt domain spinners based on eNom and OpenSRS will display your customers the suggestions that should interest them. This is an amazing functionality that you must have in your WHMCS!
Furthermore, Domain Orders Extended For WHMCS will let you group various domains into categories, make bulk actions on multiple domains as well as add and configure your own domain lookup submodules or use predefined ones like OpenSRS or eNom. In this way, you will be able to easily adjust the module to your own needs and preferences. Possibility to import predefined TLD sets and filter your domains will definitely facilitate the use of the module.
Make your offered services more attractive and give your clients the entirely new user experience. Order Domain Orders Extended For WHMCS to allow your customers order multiple domain names in the most efficient and user-friendly way, directly from the WHMCS client area. This will definitely translate into sales increase!