Compatible XF Versions

1.2
1.3
1.4
1.5
Description:
Delete Posts is designed for admins to be able to easily delete all posts by username.
(Example of Delete Posts Search page)

(Example of Delete Posts Confirm page)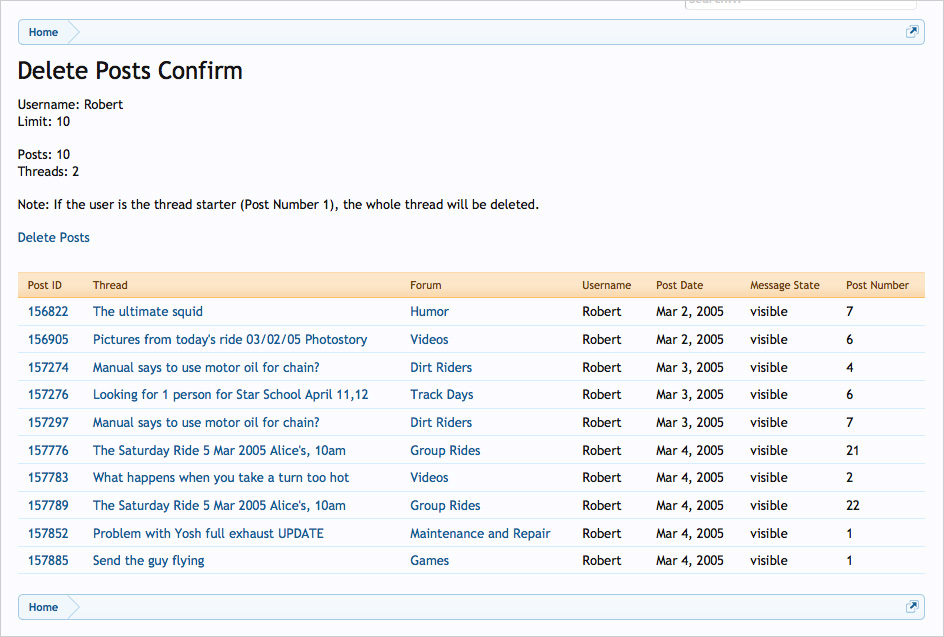 Features:
Physically deletes all posts and threads made by username.
Able to delete posts even when user account has already been deleted.
Limit the number of posts to delete at one time.
All phrases start with deleteposts_ for your convenience.
Installation:
Download deleteposts_v1.7.zip and unzip it.
Upload the Andy folder to your server. The correct location is library/Andy.
From your Admin Control Panel, go to the "Install Add-on" page.
Upload the addon-DeletePosts_v1.7.xml file.
Click the Install Add-on button.
User Group Permissions:
Be sure to set the Administrative group permission to Allow.

Moderator settings:
Make sure you are a Super Moderator.
Admin Control Panel -> Users -> Moderators

Make sure the Forum Moderator Permissions are all checked:

How to use:
Because this add-on uses a large amount of resources, if deleting a large number of posts I suggest you close the forum.
Enter "deleteposts" after the root portion of your forum URL:

Examples:
Code:
Full Friendly URLs
http://www.domain.com/deleteposts/
http://www.domain.com/forums/deleteposts/

non-Full Friendly URLs
http://www.domain.com/index.php?/deleteposts/
http://www.domain.com/index.php?/forums/deleteposts/
Enter Username and Limit number then click Search. The "Limit" field is required and is used to prevent the server from reporting an error if too many posts are deleted at one time. Typically the Limit maximum needs to be between 200 to 5,000 depending on your server.
Once the Delete Posts Confirm page is verified and you're sure you want to delete the users posts, click the Delete Posts link.