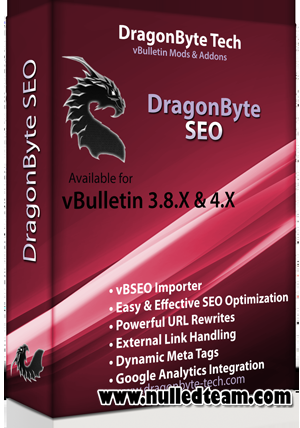 ​
Uses

DragonByte SEO is a complete, modern and fully supported Search Engine Optimisation solution for vBulletin 3.8.x and vBulletin 4.x.x, allowing you to easily eliminate duplicate content penalties from search engines and improve the search engine friendliness of your content URLs via multiple powerful tools.

By giving you total control over how the URLs are presented, DragonByte SEO allows you to customise your site's URL structure should you so choose, or leave the settings at their default values for a "set-it-and-forget-it" experience.

Integrated sitemap builders automatically submit multiple content types to various search engines, ensuring any new URL formats are instantly picked up upon.
​
Code:
  _   _	   _ _		  _   _____						   
| \ | |_   _| | | ___  __| | |_   _|__  __ _ _ __ ___		 
|  \| | | | | | |/ _ \/ _` |   | |/ _ \/ _` | '_ ` _ \		
| |\  | |_| | | |  __/ (_| |   | |  __/ (_| | | | | | |	   
|_| \_|\__,_|_|_|\___|\__,_|  _|_|\___|\__,_|_| |_| |_|	  _
| | | |_ __   __| | ___ _ __ / ___|_ __ ___  _   _ _ __   __| |
| | | | '_ \ / _` |/ _ \ '__| |  _| '__/ _ \| | | | '_ \ / _` |
| |_| | | | | (_| |  __/ |  | |_| | | | (_) | |_| | | | | (_| |
  \___/|_| |_|\__,_|\___|_|   \____|_|  \___/ \__,_|_| |_|\__,_|
					Nulled Team UnderGround | Nulled Team Forums
					--==== DOWNLOADED FROM null-scripts.net ====--