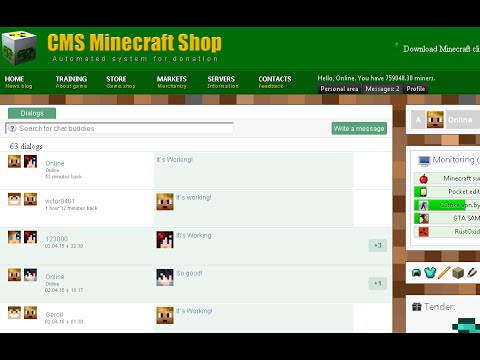 ​
Accepting donations for your community
Nothing is easier than monetizing your servers! Simple installation, fast connection and instant payback of the project. Donate engine for monetizing ARK, Minecraft, Pocketmine, Rust, Project Zomboid, Life is feudal, SAMP, MTA, Hurtworld servers and servers based on HALF-LIFE and Steam, such as Counter-Strike 1.6. Create your online store, personal account for selling resources and privileges.
Automatic donation
It is written in PHP, uses MySQL and provides a personal account for game servers. There are real-time statistics, resource store, sale of VIP groups. Paid unban makes it possible to issue a penalty to the user in real currency. The gaming market allows you to trade personal resources. Direct connection to payment systems increases profits and reduces costs.
Complete code security
All transactions are reliably protected - CMS Donate Engine has no vulnerabilities. Donate for the site has a routing system that allows you to use SEO, GZIP compression to save traffic and increase loading speed. With the help of the task planner, schedules are built, rewards for players are given out according to the total time online.
Auto donate for game servers
With the help of a flexible system of discounts donate the site, it is possible to sell goods at any price and thanks to the access control system, the site is reliably protected, which allows the administrator to open access for any page to certain users who want to help in the development of the site.