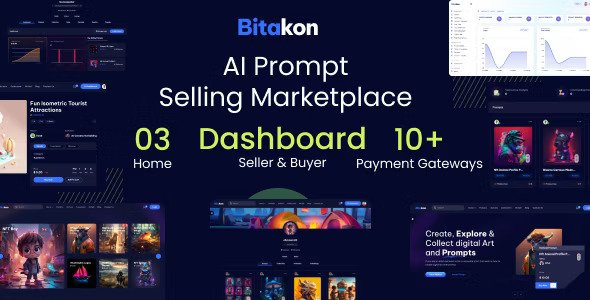 ​
How It Works:
Browse & Explore: Dive into our marketplace and explore a vast selection of AI prompts. Use our search filters to find prompts that align with your needs.
Purchase & Download: Select the AI prompts that capture your interest, make a secure purchase, and download them instantly.
Create & Collaborate: Unleash the power of AI in your projects, whether it's content generation, data analysis, or problem-solving. Collaborate with fellow AI enthusiasts to take your ideas to the next level.
Sell Your Prompts: If you're an AI expert or creator, you can join our community of sellers and share your AI prompts with the world. Monetize your expertise and contribute to the AI revolution.
Script Demo:
Home:
Bitakon
Admin Panel Credentials​
Admin Login Url:
https://bitakon.nexilate.xyz/login
Email:
admin@admin.com
Password:
password
User Panel Credentials​
User Login Url:
https://bitakon.nexilate.xyz/login
Email:
user@user.com
Password:
password


​