Hi all, Been a while since i have released a style (ive not been online much of late due to a close friend passing away, so my apologies for my lack of support of late).
Today i am releasing my New 4.1 style that i have created for my Battlefield 3 forums website.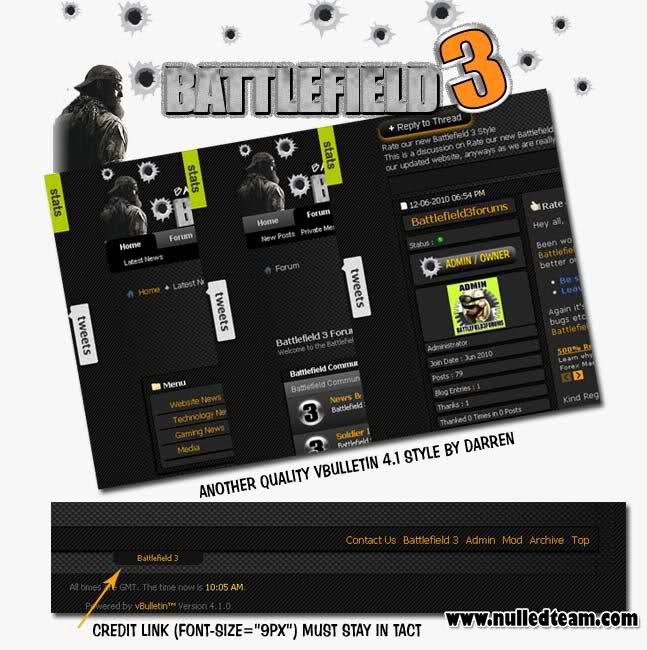 LIVE PREVIEW: Battlefield 3 *Have a good look around, Many features / nice touches)
- Full CMS STYLED.. vBulletin 4.1 publishing suite.
- Custom Postbit userinfo section
- Many VB4 bugs addressed / hard-coded out
- Social Networking (Facebook & Twitter Buttons implemented
- Many Many more features / nice touches
You will need to replace the logo with your own, i am not including source files for this release.
I have big plans for this website / project, at the time of writting this my site is relatively un-modded, i do plan on heavily modding this site so the style may change over time, however i will do my best to update this style for everyone.
I would also like to encourage any Gaming / Battlefield Fans to sign up and become active around the forums,partners / staff also wanted, PM me via my site (Battlefield3forums) if your interested,Thanks.
NOTE* This is released for free, this style includes a Footer Link (font size "9") a non-intrusive credit link, This must remain in place if you wish to use this style for your website. Ive put a lot of work into this style and hope other people find it useful, however i will not tolerate anyone removing due credits, anyone selling my work, anyone editing my work for profit of any kind.