Description
This add-on gives you the following new options in Admin CP > Options > User Registration: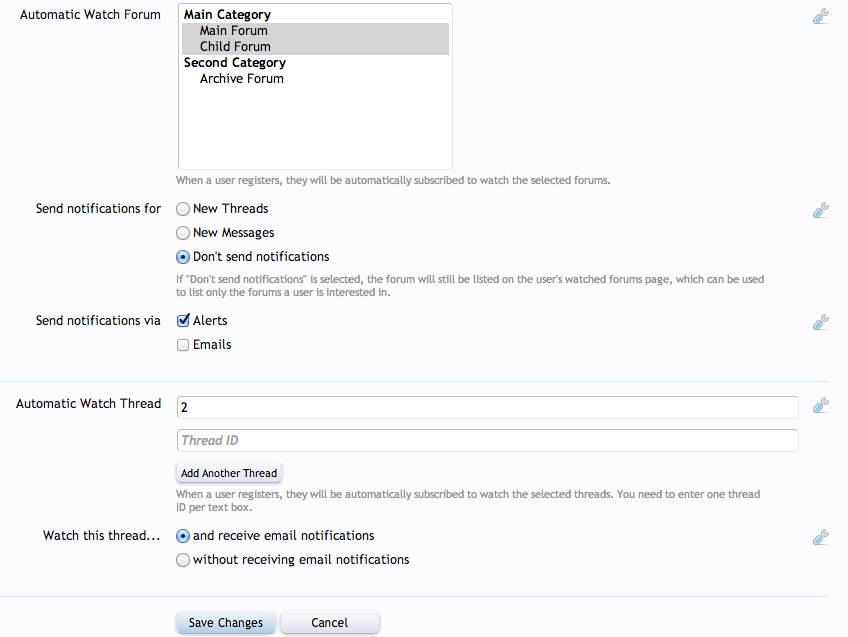 When a user registers, they will be automatically subscribed to the Forums and Threads selected with the options you specify.
They can, of course, unwatch these forums and threads if they wish to in the usual fashion.
I have not added any sort of text that warns them of this action during registration. I will leave that up to you to place that wherever you like, in the format you like with the wording you like, if you wish to.
Support included in the purchase price, no copyright messages included but if you wish to have changes made then this will be a chargeable service.
Purchasing includes a license to use on a single forum only.
There's not really much to see in action, but if you register at
http://xenmediagallery.com
you will be set to automatically watch the News and Announcements forum.
Once you purchase, you will receive the product in an e-mail. Please keep this e-mail as the download link within will always download the most recent version.
Installation
This add-on can be installed using the
Add-On Installer
.
Alternatively...
Extract the contents of the Zip file.
Upload the contents of the upload folder to the root of your XenForo installation.
Install in the Admin CP using the provided XML file.