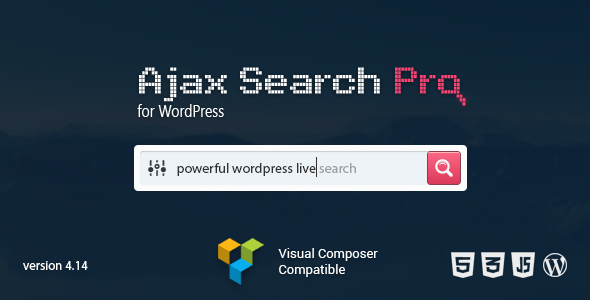 Ajax Search Pro for WordPress v4.9.7 – Live Search Plugin – Ajax search pro is the best live search engine plugin for WordPress. Highly customizable, with many features and options, giving the best results possible! Replace the WordPress search bar with a better looking, more efficient search engine.
Ajax Search Pro for WordPress was designed to boost the user search experience to the maximum. It provides a live ajax search, which makes the wordpress search experience more confortable.
The results are presented with images (if any found), so they look more attractive and less flat. The search works with mobile devices, let it be Android or IOS powered.
The search can override the default wordpress search results – so the ajax functionality is extended – replace your default theme search with only a click of a button. The search can return posts, custom post types (like WooCommerce products, BBPress forums, topics, replies), Categories, custom taxonomy terms (like product categories), users, buddypress gorups and buddypress activities as results.
As of version 4.0, the plugin officially supports Visual Composer as well – so in addition an Ajax Search Pro Visual Composer addon is included within the plugin.
The plugin is updated regulary based on customer feedbacks and bug reports. Every support ticket is answered within 48 hours, usually in 12 hours (except for weekends).
Code:
Will the plugin work with the * theme?

Yes it will. The plugin is theme independent.

Will it work on a multisite blog?

Yes it will.

Can it replace my default theme search bar automatically?

Yes it can! You can select which search instance you want to display instead of the default theme search bar.

Can I search custom post types, like WooCommerce/Jigoshop products?

Yes you can!

Can I search buddypress groups/activity-feed/users?

Yes you can!

Can the plugin return categories or custom taxonomy terms as results?

Yes it can!

Will it work with bigger databases, like 25000+ records?

Yes it will. The search speed only depends on your server speed.

Does it support sites with RTL?

Yes it does!

Will it display images, that are not hosted on my server?

Yes it will. In case of issues, read this knowledge base article.

Is support provided, if so where can I get supported?

Yes, this item is supported! Please read the documentation and the knowledge base first. Many questions are answered there.

Can I search files or file contents on my server?

Unfortunately you can't.
Ajax Search Pro for WordPress v4.9.7 – Live Search Plugin Changelog
2016.09.05 – v4.9.7 – Minor Update Added:
New category and term exclusion and inclusion options added
Fixed:
Corrected AUpdater message
Title percision query correction for Index Table operations
Scrollbar fixes: fully namespaced and moved to a different scope for max compatibility
Attachment image source fix
Isotopic and Polaroid mobile swipe results fix
Changed:
Category and tag exclusions work for attachments as well
Dash like ignore removed from index table generator, smarter solution instead