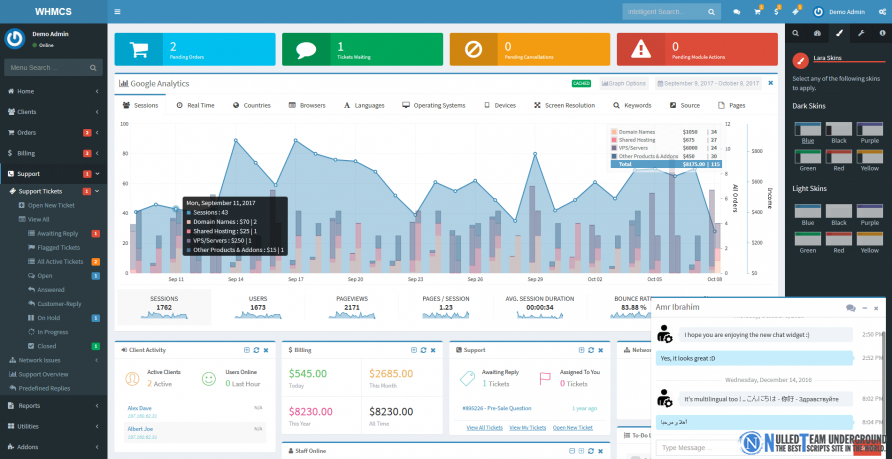 ​
Want to change the default WHMCS Admin Template "i.e., Blend" ?! .. Welcome to Lara!
Lara, is WHMCS & AdminLTE blended together, resulting in a beautiful
WHMCS Admin Theme
, that can be used on daily basis, without hurting your eyes!
Don't just take our word for it, check a full working
Demo
by visiting our
WHMCS Admin Demo
.​
The theme comes with tons of options, beside the good looks :
Compatible with the latest WHMCS, including all the latest versions, from V6.3 to v7.4
Menu Search, The Only WHMCS Admin Theme with search in menu, for easy access to all WHMCS options.
Intelligent Search, Search in WHMCS by (ticket number, invoice number, customer name, city .. etc).
Menu Notifications, Detailed notifications ( number of open tickets, pending invoices .. etc.) shown directly in WHMCS menu.
Home Page Widgets, Beautiful home page widgets, using moris.js chart engine.
Right Side Bar, Providing easy access to "Advanced Search, Ticket Search, in-ticket menu and built in browser links.
User Menu, Custom user menu, with quick links and notifications area.
Full Source Code, 100% source code provided. No encoded/encrypted files.
Updates & Support, 12 Months of Free updates and support. Including new features, bug fixes and WHMCS Updates.
Dashboard Customization, Choose what to see on your dashboard. Hide/Show homepage widgets.
12 Different Skins, Enjoy 12 color-full skins for every taste, with a click of a button!
Intelligent Search, Intelligent search as you've never seen before, with optional search as you type "Quick Search".
Custom CSS & Javascript, Easily apply your custom modifications without the need to edit the theme files directly.
Gravatar integration, Each admin will have his/her own gravatar icon.
Google Analytics Widget : Without leaving your WHMCS admin area, check user sessions, countries, operating systems and other Google Analytics metrics. [ Free addon for Limited Time Only ]
Staff Chat Widget, Staff members can easily chat with each other, directly from within WHMCS admin interface. [ Free addon for Limited Time Only ]
Support Tickets Count : Better algorithm for counting tickets, and including the numbers on every page.
Added in version 7.x - (For WHMCS v7.x Only) :
New Dashboard:Based on the amazing dashboard, introduced in WHMCS v7.1, with tons of features :

Fully customizable interface, with the ability to move, close and resize widgets according to your needs.
Smart responsive layout, where the number of widgets per row will change according to your screen size ( 1 widget/row on smartphones, 2 widgets/row on tablets and finally, up-to 4 widgets/row on large screens).

Google Analytics Widget:Updated to the latest version, which includes :

WHMCS orders/income integration: Now, see a combined graph, with analytics data and WHMCS orders/income.
Express Mode: Connect your WHMCS with your Google Analytics in less than 30 seconds, without the need to create your own Google APP.
Faster loading times: Combined all required script and css files into 2 files only!

Staff Chat Widget: Now supports multilingual and comes with a sound notification for new messages.
New Permissions Interface: Control all of the theme settings from one page, including admin groups permissions.
Custom Logo: Without the need to edit any files, easily customize the logo of your WHMCS admin interface.
Fixed Layout: Allowing the page contents to scroll while the side menus are fixed.
Faster Loading Times: Thanks to the new combined assets system, loading time has decreased dramatically!
New in version 7.3 - (For WHMCS v7.3 and above) :
Advanced WHMCS orders/income integration
: Fully customizable graph, with Google analytics and WHMCS orders/income, broken down by any of the following :
Product Type (Domain Names, Shared Hosting, Reseller Accounts, VPS/Servers and Other Products & Addons).
Product Groups (as defined in your WHMCS).
Individual Products.
Not only that, but with a dedicated Graph Options menu,
each administrator
can customize all graph options and colors, and will have the option to view
all orders
,
new orders
or
renewal orders
only.
Google Real Time Monitor [Beta] : Real-Time allows you to monitor activity as it happens on your site or app. The reports are updated continuously and each hit is reported seconds after it occurs. For example, you can see how many people are on your site right now, which pages or events they're interacting with, and which goal conversions have occurred.
Google Analytics Devices Report : See which devices or brands drives the most mobile traffic to our website, all in one place.
Custom Image Logo: Easily customize the logo of your WHMCS admin interface (Text or Image Logo).
Get the theme now for only
$14.99
.. That's a
70% discounted
price ! .. Act quickly, as
THIS OFFER IS LIMITED
.