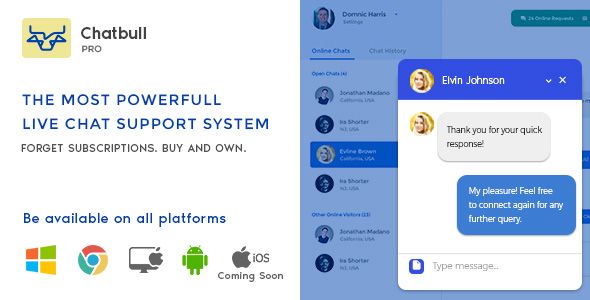 ​
Chatbull is complete Php, MySql and Angular based live chat support plugin that is provide quick suppot to your cutomers . Mobile and Desktop Application are built with chatbull. It is based on material design.
For more information and support. Kindly visit us at:
Chatbull.in website
Chatbull Pro is a Php Live Chat plugin to provide live chat support for website visitors. It is built upon latest frameworks and technologies which includes CodeIgniter & AngularJS. Chatbull includes a huge list of features including
desktop & android app
which helps entrepreneurs, small and large scale businesses to connect with their potential customers and understand their need.
We Thank The Following
for the wonderful work which we have used in our product.
Demo :
https://codecanyon.net/item/support-chat-php-live-chat-with-desktop-and-mobile-app/15044181